Chris Anderson (author and entrepreneur) first articulated the pattern of 'The Long Tail' in an article in the Wired magazine back in October 2004. The idea became so popular that in 2006 it came out as a full-fledged book called The Long Tail: Why the Future of Business is Selling Less of More.
When it was first introduced, 'the long tail' was used to effectively explain the strategy and success of online retailers like Amazon. But over the years, we find that the same concepts apply equally well, and more forcefully so, to understand digital transformations that are shaping the future of traditional businesses across all industries.
Anderson's coinage of the catchy term refers to the whole concept of demand distribution over a larger demographic. And it happens to be a use case that has been studied for many decades by statisticians. The delivery and operational costs of applicable goods/services allow businesses to realize significant profits out of selling sustained lower volumes to many customers, instead of only selling larger volumes to a select audience, creating "the long tail" of their expansion. We must note that the possibilities for this expansion grew even more dramatically with the technological enablers on offer today.
In Anderson's analysis, there are certain physical constraints that all brick & mortar businesses face – limited reach and expensive facilities resulting in higher operational costs. It is not easy for them to support a dual 'products and services' portfolio. Many of them don't even have a services portfolio. For those who do, they can't sell services that enjoy a rather sustained and prolonged demand, at a lower price point. Newer business models, which focus more on services, such as those of Amazon (retail), Uber/Lyft (transportation), and Lending Tree/Square (Banking & Financial Services) are not faced with these physical constraints. They can create a virtual and highly extensible enterprise that can aim to deliver services to anyone, anywhere, and anytime. Thus, they are able to cater to "the long tail" extremely effectively.
Looking at the graph below, we can clearly understand how what we refer to as 'Digital Transformation (DX)' is all about traditional businesses identifying newer services, channels, and methods of richer customer experiences to first create and then try to maximize their own 'long tail' revenue. While that is going on, many of the 'born digital' enterprises, aka the digital predators, such those listed above, are now working hard to complement their dominant position in the 'long tail' with growing physical capabilities, including manufacturing of products in some cases, to go after the 'head' portion of the graph. Hence, it is quite clear that this game of one-upmanship will eventually be an equal opportunity play, for any aspiring business, regardless of which end of the spectrum they start their land grab from, to go after the combined area represented by green and yellow in the graph.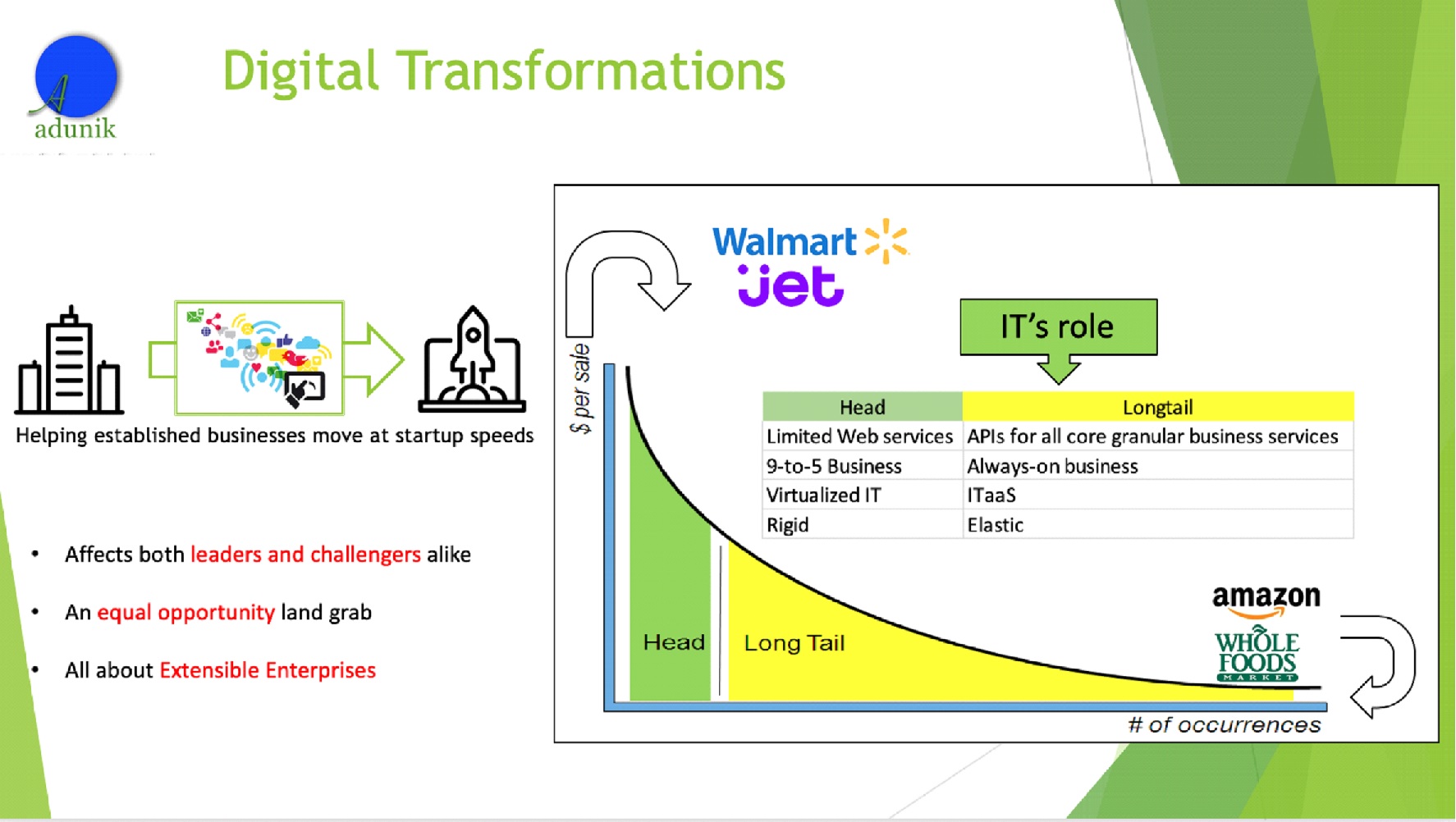 But, the reality is that there is more money being spent on digital transformations by established enterprises, aka the digital preys, today. That amount is as high as a staggering $1 trillion globally, according to market analysts as listed in the graph. Why? Because, they risk losing at least 47% of their revenue, according to Forrester, to their predators at the gate, and in some cases even totally be wiped out, as was the case with Borders, Blockbuster, Sears, and so on.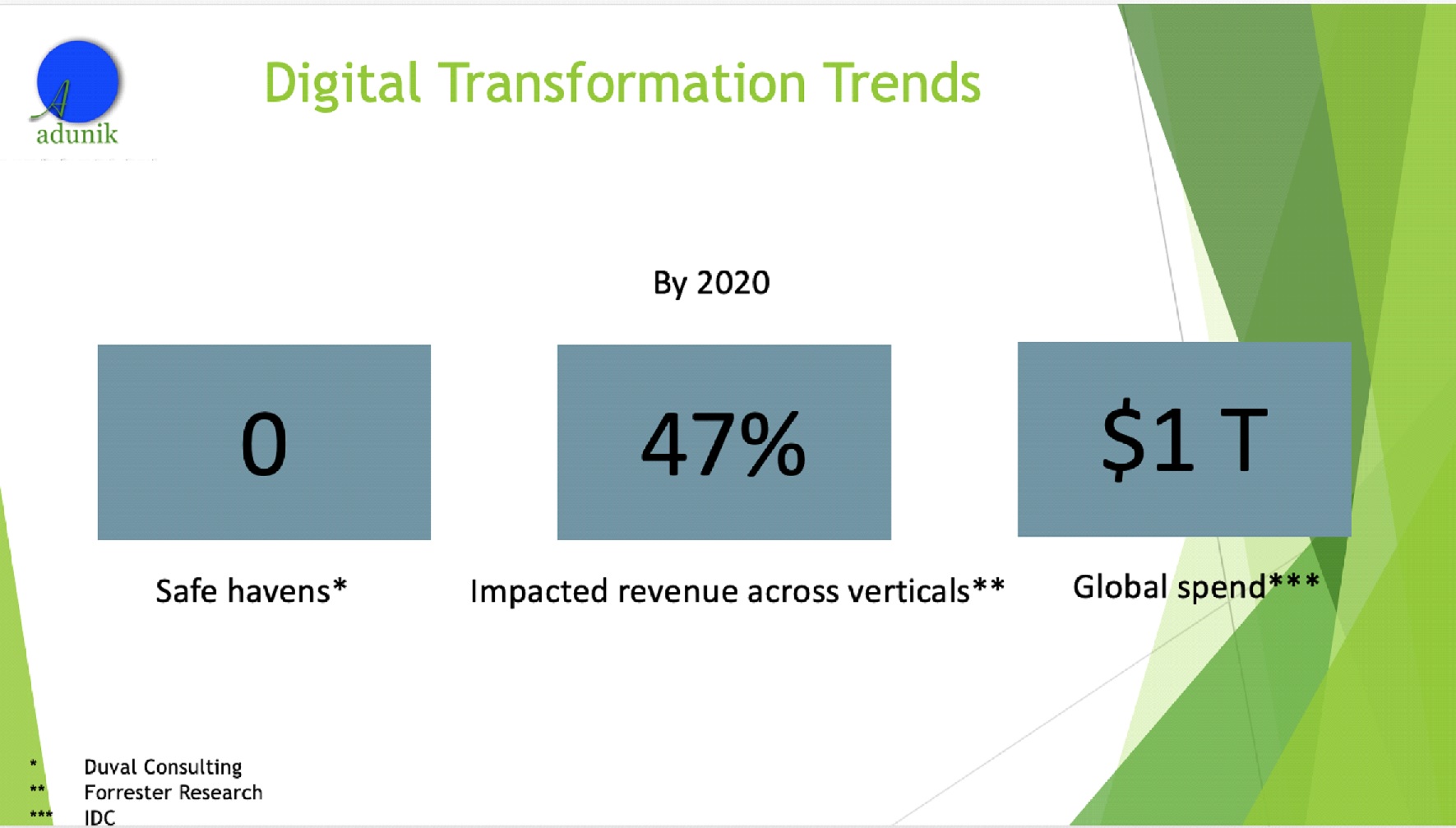 A few more observations about certain digital dynamics that this graph helps us to call out.
The area under the "long tail" can significantly be greater than the "head", and can therefore make these new age companies succeed in ways that are currently not tenable for traditional enterprises (unless they are willing to work hard to transform themselves to be digital, in a hurry). For example, Uber and Lyft combined can make more money selling millions of rides, for an average of $20-30 in any given hour, than the combined sales of all auto OEMs (if the OEMs limit their business models to just making vehicles and not push themselves to enter the 'services' business that the 'long tail' is all about). That new game, of 'products and services' play, is arguably easier, through digital transformations, for established companies to respond to the challenge with. On the flipside, it will take more time, money, and acquired capabilities for the digital challengers to add 'products and manufacturing' capabilities to their 'services rich' portfolio for them to compete in the 'head' portion of the graph. The point is, with agile and effective digital transformations, traditional businesses have a rare opportunity to have an edge in this land grab.
But, being slow to react can be rather disastrous. The case in point is that a particular service (such as selling books in a store) may get so well entrenched in the 'long tail' area, after disruptions set in and newer buying and user experience habits reach a certain level of maturity, that it forces all providers to learn the dynamics of the 'long tail' or perish, as it happened with Borders for example. We all can take our own guesses as to what will be such a broad-based next such use case? Buying automobiles from OEMs/dealers? What if using ride-sharing in autonomous vehicles becomes the norm for personal transportation needs becomes the norm, for the most part? What if, as Tesla is proposing, our own vehicles, which statistically sit idle for 95% of the time (either at home in the garage or in the parking lot at work) can make money for us by participating in the autonomous ride-sharing gig economy during that idle time? Who will be wiped out if that were to happen?
Well, we must also note that many services do coexist in the 'head' and the 'long tail', complementing each other, forcing the providers to have a dual strategy to cater to these two different models, as is being done by Best Buy and Walmart (with their stores plus eComm strategy with acquisitions like Jet.com by Walmart), for example. They have been so effective at it, that while on the one hand they are being challenged by the mighty Amazon they are also able return the favor by forcing Amazon to develop physical presence with such moves as the acquisition of Whole Foods. The same applies to many auto OEMs who have transportation-as-a-service offerings of varying flavors, but they are all in their infancy compared to their challenged counterparts in the retail industry.
Given these dynamics, the established players owe it to themselves to get their act together, and to do so rapidly, to differentiate themselves as attractive Digital Plus businesses, with balanced portfolios (of products and services) and robust Omni-Channel capabilities, that can operate as Extensible Enterprises of global scale.
But, while they may have the business capabilities to address both the 'head' and 'long tail', they do have some big baggage unlike their challengers. And, that burden is the baggage of older systems (i.e. stodgy applications) which can impede the businesses from where and how fast it wants to go. And, that is precisely where most of the $1 trillion will go, and the question the IT providers need to ask themselves is, how ready are they as the enabling partners to help them shape and hasten these transformations.
IT providers need an end-to-end DX methodology that combines business transformation with technology enablement, and one with an underlying foundation layer of agile DevSecOps, for them to be qualified as viable and effective partners in these efforts. They must realize that it is one thing to help their customers to go digital, but it is yet another to help them stay digital, which is where best practices related to implementing the 'continuous next' come in through DevSecOps. They have to be fully equipped with thought leadership and all kind of accelerators to help traditional businesses in getting to be truly extensible and very nimble so as to move at startup speeds.
Have you thought about Digital Transformation? The opportunities are plenty, and the journey is very exciting and will go on for a while!!
Sreedhar Kajeepeta is the Founder and President of Adunik Inc and can be reached at: sreedhar@adunik.com